Night of Broadway Auditions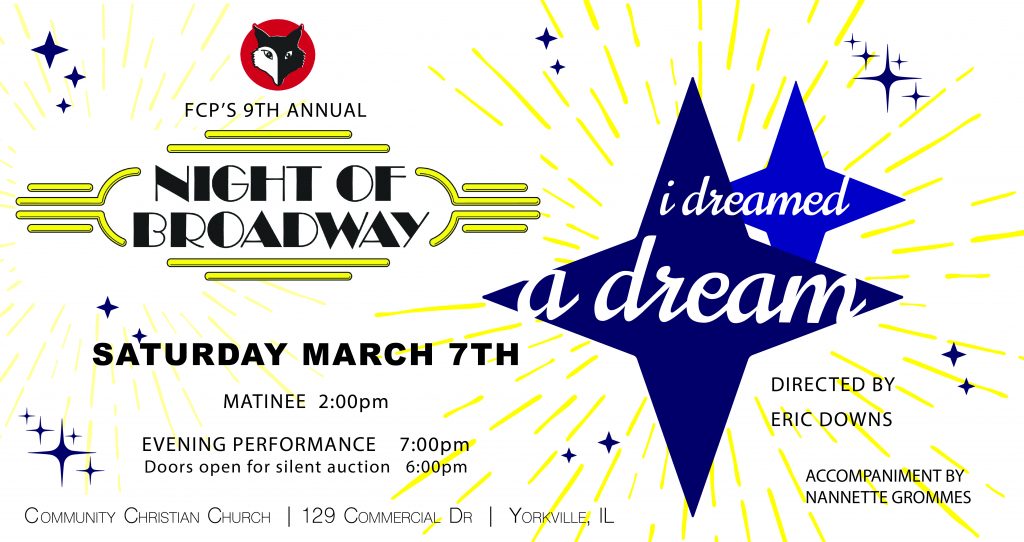 Fox Country Players announces auditions for the Ninth Annual "Night of Broadway" concert!
Auditions are announced for Fox Country Players' 9th Annual Night of Broadway fundraiser, directed by Eric Downs! Proceeds from this delightful cabaret-style concert and silent auction go to benefit FCP's Theatre Arts Academy that provides arts programming for local children in July.  There will be two shows on Saturday, March 7th, a 2pm matinee and 7pm evening performance.
This year's theme is "I Dreamed a Dream."  Auditioners should bring a song you've always dreamed of singing.  Maybe it's from a show you've never done, or a song that doesn't match your gender or age, but have always wanted to sing.
Please prepare 32 bars of your song and bring printed sheet music for our accompanist (no tablets, phones, or backing tracks, please.)  In order to do the best job for you, our accompanist requests that pages be taped together, or better yet, be in a notebook.  Books are great if they can stay open!
Of those cast, some performers will sing solos, while others will be put in pairs or small groups.  All cast members will perform in 2 group numbers.
Audition dates are set for Saturday, February 8 from 12-3 p.m.,
Monday, February 10 from 6:30-9:30 p.m.,
and Tuesday, February 11  from 6:30-9:30 p.m.
PLEASE NOTE NEW AUDITION LOCATION!!!!
Waubonsee Community College – Sugar Grove Campus
Auditorium
Singers may come at any time during the open time slots and will be seen on a first-come-first-served basis. Performers cast in our show may be asked to sing a different song and all song choices are at the discretion of the director.
There will be minimal rehearsals, but everyone is expected to be at Dress Rehearsal on March 6.