2020 Spring: Into the Woods!
FCP is thrilled to announce our Spring Musical will now be… INTO THE WOODS! Join us on this whimsical journey deep into the darkness and light; into the woods! Performances will be April 24-26 and May 1-3 at Waubonsee Community College. Auditions will be held in late February. Stay tuned for more information!
Read more »
Night of Broadway Tickets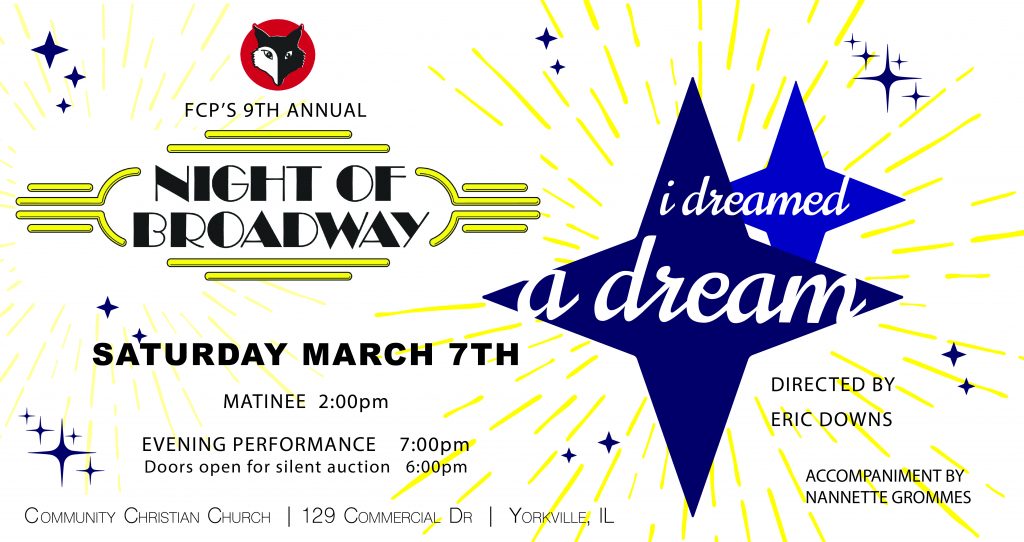 Tickets are now available for the 9th Annual "Night of Broadway" concert and Silent Auction.
All seats are $22.00. General Seating. Tickets will be available at the door.
Tickets may also be purchased online HERE. 
Read more »
Spring Shows have been Cast
Into the Woods and Night of Broadway 2020 have been cast!
We had over 75 amazing auditioners, such talent we have never seen! Thank you so much for sharing those talents with us. Thank you for your zeal in supporting our organization! Our shows have been cast, but please, come audition again for our next production. We truly hope to see you again! Congratulations to all involved!
Read more »