Night of Broadway Information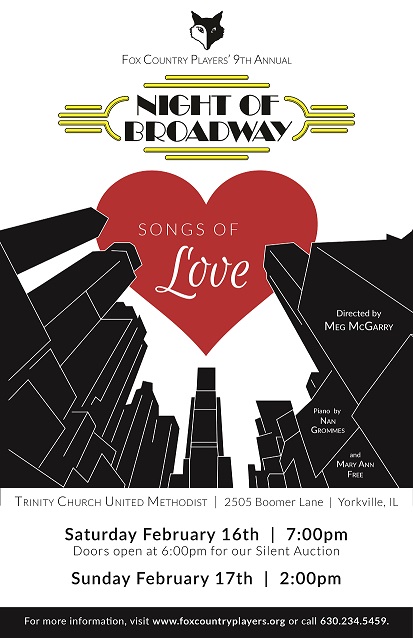 " NIGHT OF BROADWAY" hit the stage on February 16 and 17, 2019!!  We also had the Silent Auction with the Saturday night show, with the concert only on Sunday afternoon.
Because of the show's proximity to Valentine's Day, this year's fantastic musical showcase featured songs about love, in all its forms.
The performances were held at the Trinity Church United Methodist  on the corner of Route 47 and Cannonball Trail in Yorkville. (2505 Boomer Lane.)
This show was again be directed by Meg McGarry, with piano accompaniment by Nan Grommes and Mary Ann Free. We also added Brian Knechtges on guitars and banjo and Elias Martinez on percussion.
The auction fund raiser for our Theatre Arts Academy was an amazing success.  We took in slightly more than $3,000!!  Thank you so much to all who donated and bid on the wonderful selection of items collected by Allison Scigalski.
This year's cast included:
Teresa Arnold – Hoffman Estates
Nettie Badgley – Yorkville
Layla Bohl – Yorkville
April Brossett – Yorkville
Miranda Colin – Aurora
Marilyn DiCola – Yorkville
Morgan Dietkus – Aurora
Eric Downs – Oswego
Scott Fleetwood – DeKalb
Allie Fule – Yorkville
Savannah Johnson – Yorkville
Tracy Kay – Wheaton
Hannah Kennedy – Elk Grove Village
Elli Kettley – Aurora
David Korzatkowski – Oak Park
Kay Knutson – Yorkville
Robyn Lycan – North Aurora
Blake Malley – Yorkville
Loretta Malley – Yorkville
Julie Martin – Montgomery
Eliseo Martinez – Oswego
Meg McGarry – Plano
Nick Miesuk – Yorkville
Maddie Mormino –  Yorkville
Katie Nauss – Downers Grove
Christopher Roe – Geneva
Allison Scigalski – Aurora
Jason Sheldon – Oswego
Thomas Squires – Hoffman Estates
Jake Teeling – Yorkville
Lily Teeling – Yorkville
Matt Teeling – Joliet
Stuart Vance – Naperville
Jackie Was – Yorkville
Matt Weaver – Yorkville
Jen Whittington – Bolingbrook
Sherrie Wirtz – Yorkville
Blair Wright – Rockford
Lisa Wukitsch – Geneva
Josh Yeager – Villa Park